A Guide to Baroque-Style Design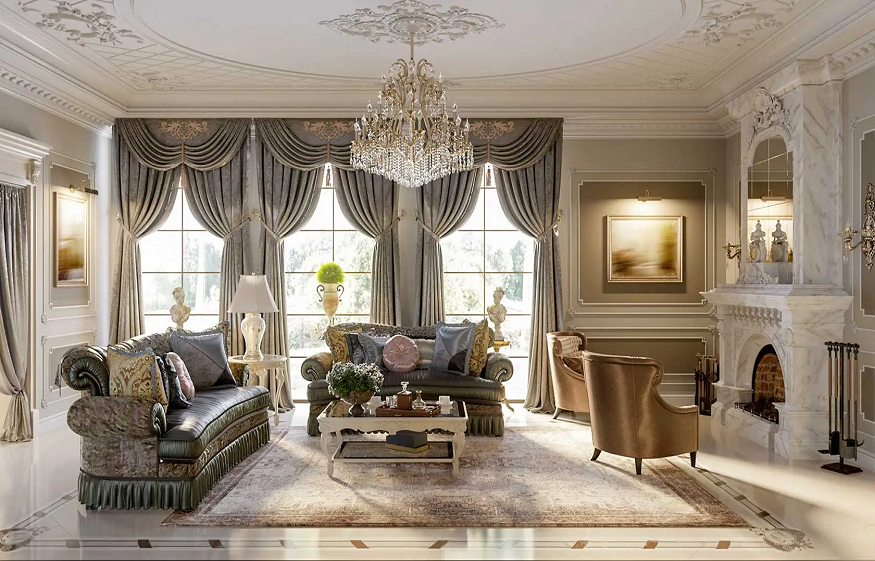 When it comes to interior design, exploring various types of interior design styles can help you discover the perfect fit for your home. One such style that exudes opulence and timeless elegance is Baroque-style design. In this guide, we'll delve into the world of Baroque design, uncovering its key features and providing home décor ideas that bring a touch of grandeur to your living spaces.
Understanding Baroque-Style Design
Baroque-style design originated in 17th-century Europe and is known for its extravagant and ornate characteristics. This style emerged as a response to the Renaissance's symmetry and simplicity. Baroque design embraced a more theatrical and dramatic approach, focusing on intricate details, rich textures, and elaborate ornamentation.
Key Features of Baroque-Style Design
Opulent Color Palettes: Baroque design embraces rich and luxurious color schemes. Deep reds, golds, royal blues, and regal purples dominate the palette, evoking a sense of grandeur and elegance.
Elaborate Details and Ornamentation: Ornate details are a hallmark of Baroque design. Think intricate carvings, gilded frames, and elaborate moldings that adorn furniture and architectural elements.
Curvaceous Forms: Baroque-style design shies away from straight lines and simple shapes. Instead, it revels in the beauty of curvaceous forms, seen in furniture legs, arches, and decorative elements.
Luxurious Fabrics: Upholstery and drapery play a crucial role in Baroque interiors. Velvet, brocade, and silk are favored fabrics that add texture and a tactile sense of luxury.
Dramatic Lighting: Chandeliers and wall sconces with intricate designs and multiple lights are common in Baroque interiors. These lighting fixtures serve as both functional pieces and decorative works of art.
Incorporating Baroque Elements with Modern Sensibilities
While embracing Baroque-style design, it's important to strike a balance between its opulence and modern functionality. Here are a few tips to keep in mind:
Choose Statement Pieces: Select a few key furniture or decorative pieces that embody the essence of Baroque design, rather than overwhelming the space with excess ornamentation.
Mix with Moderation: Integrate Baroque elements alongside modern or minimalist pieces to create a harmonious contrast that highlights the unique features of both styles.
Focus on Details: Pay attention to intricate details and craftsmanship. This can elevate even the simplest of spaces, infusing them with a touch of luxury.
Home Décor Ideas Inspired by Baroque Design
1.    Regal Living Room
Infuse your living room with Baroque opulence by incorporating a plush velvet sofa in a deep jewel tone. Adorn the walls with ornate framed mirrors or artwork that features intricate gold detailing. Complete the look with a crystal chandelier that casts a warm and welcoming glow.
2.    Elegant Dining Space
Create a dining area fit for royalty by selecting a large wooden dining table with curvaceous legs. Pair it with upholstered dining chairs in sumptuous fabrics like silk or brocade. Hang an elaborate chandelier above the table to set the mood for elegant gatherings.
3.    Luxurious Bedroom Retreat
Transform your bedroom into a lavish sanctuary by opting for a canopy bed with richly textured curtains. Incorporate ornate bedside tables with intricate carvings and gilded finishes. Soften the space with plush velvet cushions and throws.
4.    Grand Foyer Entrance
Make a statement right from the entrance with a grand foyer inspired by Baroque design. Install a stunning chandelier that draws attention to the intricate detailing on the ceiling. Adorn the walls with large-scale artwork or tapestries that feature elaborate patterns.
5.    Opulent Bathroom Oasis
Elevate your bathroom's ambiance with Baroque-style design elements. Choose a vanity with curved edges and ornate details. Install a freestanding bathtub with clawed feet for a touch of vintage luxury. Don't forget to include a chandelier or decorative wall sconces for a dash of drama.
Exploring different types of interior design styles can lead you to discover the perfect fit for your home. The baroque-style design offers a journey into the lavish and ornate, where opulence takes center stage. By incorporating key features like elaborate ornamentation, rich color palettes, and luxurious fabrics, you can create spaces that radiate grandeur and timeless elegance. Remember, striking a balance between Baroque elements and modern sensibilities will ensure a space that is both opulent and functional, offering a unique and captivating ambiance for your home.